Remarkable Technologies, Inc. was founded in 1994 by inventor and entrepreneur, Eric Knight [bio]. His vision was to create a company that provides innovative products and services that enhance business and empower people -- and those remain our guiding principles today. Twenty-six years after the company's inception, Eric continues as the visionary behind Remarkable Technologies, Inc. He also provides his time and energies to other endeavors that have similar lofty goals.
IMPORTANT NEWS: "Alzheimer's Memory Loss Reversed by Easy-to-Wear Head Device" -- results published in the Journal of Alzheimer's Disease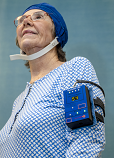 Remarkable Technologies, Inc. is collaborating with Phoenix-based NeuroEM Therapeutics on the vitally important mission to find an effective treatment for Alzheimer's disease. The results of NeuoEM's Phase I clinical trial regarding its Alzheimer's treatment were just published in the Journal of Alzheimer's Disease. Link: https://content.iospress.com/articles/journal-of-alzheimers-disease/jad190367

The clinical study indicates that "Two months of [NeuroEM's] in-home transcranial electromagnetic treatment (TEMT) was safe and improved memory performance of patients with mild to moderate Alzheimer's disease. After two months of treatment, memory decline in m

ost patients appeared to have been reversed to cognitive levels equivalent to 12 months earlier. Findings point to a potential breakthrough in Alzheimer's disease treatment, with a larger pivotal study being planned to confirm these findings." Link to the full press release: https://www.prnewswire.com/news-releases/alzheimers-memory-loss-reversed-by-easy-to-wear-head-device-from-neuroem-therapeutics-300897327.html.

Speaking about the collaboration with NeuroEM and the results of the study, company president Eric Knight said, "My company and I are abundantly proud to be partnered with NeuroEM to tackle this horrific disease -- a disease that affects 5.8 million people here in the U.S. and countless others worldwide. It's the third leading killer, behind heart disease and cancer." Eric continued, "We have combined our efforts on many fronts. Today is an important next step in the quest to win the battle. We look forward to continuing to support NeuroEM as it presses to the future with an expanded study."

Hear Eric's further comments on the WTNH-TV (ABC affiliate) television interview here: https://www.wtnh.com/news/health/new-alzheimers-study-with-a-connecticut-connection-patients-memory-improved/


Company president, Eric Knight, has been asked to serve on the Board of Advisors of the Arch Mission Foundation™.


Eric looks forward to assist in the grand vision of the Arch Mission Foundation™ to design, build, deliver, and maintain long-duration archives of human civilization in space. The archives are designed to survive for eons in space, as well as on the surfaces of planets, moons, and asteroids.

The first archive, that included all three books from Isaac Asimov's classic Foundation trilogy, was flown on a SpaceX mission that included Elon Musk's cherry-red Tesla roadster. Eric was an early researcher for space use of the quartz-crystal data-storage technology that was flown on the mission. The data is anticipated to survive for 14 billion years during its endless flight through the cosmos. Photo courtesy of SpaceX

The second archive was flown on the SpaceIL lunar lander, and contains a 30-million-page archive of human history and civilization, covering all subjects, cultures, nations, languages, genres, and time periods. The Library is housed in a 100-gram archive of nickel disks, each only 40 microns thick.




Company president, Eric Knight, and aerospace legend, Buzz Aldrin, exchange signed copies of their books.
At a recent aerospace conference (the Humans To Mars Summit by Explore Mars), Eric had the opportunity to give a signed copy of his book, The New Race To Space, to Buzz Aldrin. In exchange, Buzz Aldrin provided Eric with a signed copy of his latest book, Mission To Mars.

Eric recently said, "To be associated with Buzz Aldrin -- one of my childhood heroes -- is a dream come true. I look forward to future opportunities to collaborate with this genuine American pioneer."




Remarkable earth-friendly energy source? Take a look...
With the world searching for energy sources that don't contribute to global warming, maybe part of the solution is all around us: tree leaves. If you find this idea intriguing, check out Eric Knight's published thought paper entitled:


"TREE LEAVES: A FREE SOURCE OF ENERGY, LITERALLY FALLING FROM THE SKY. A perpetually renewable energy source -- tree leaves -- may be the ideal earth-friendly biofuel feedstock for the production of ethanol and / or as a secondary fuel source for power plants." (Read full paper here.)

Imagine creating an industry that harvests the countless millions of tons of leaves that fall each year, and turns this abundant natural resource into ethanol to power cars and energy systems. Eric postulates if this process can be applied to corn and soybeans, why not leaves? Intrigued? Take a moment to check out Eric's thought paper by clicking here. Fast 'n' free weather forecasts for your mobile phone.
Need a fast way to check weather forecasts from your smartphone? Or want a super-quick-loading weather Web site? We've created both -- in one site. It's purposely not glitzy -- with minimal graphics for instant loading...even on your phone. It's www.smartphoneweather.com The national radar map automatically refreshes every 60 seconds. Click anywhere on the map to bring up your live local radar. Type in your Zip code for your local weather forecast and lots of extra weather features. It's another free public service, proudly brought to you by Remarkable Technologies, Inc.

The "Big Kahuna" of search services...a click away.
In 1998, Eric invented one of the early multi-search-engine services: SearchItAll.com. Today SearchItAll.com is a leading multi-search-engine service that combines the ability to search 20 search engines -- and provides one-click access to over 200 of the Web's top sites. Soup up your searching and surfing with www.SearchItAll.com.

Two free amateur "ham" radio utilities help out hobby enthusiasts.
Eric Knight, a long-time ham radio operator, helped commission our resources to develop two great ham radio utilities. HamCallLookup.com helps ham radio operators look up their colleagues in just a few clicks. And HFpropagation.com gives enthusiasts graphical and analytical methods to determine optimum frequencies for communication. If you'd like to learn more about this hobby, that's in growth mode thanks to new digital technologies and a resurgence of youthful members, check out ARRL.org.


Aurora Borealis in Connecticut. Photo Copyright © Eric Knight.